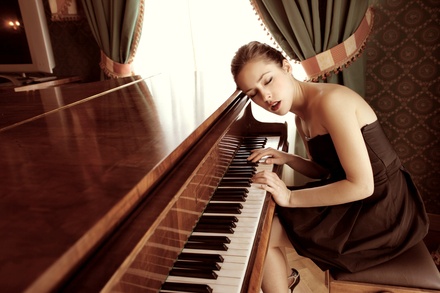 Have you ever thought
about taking piano lessons? Maybe you would love to learn how to play, but feel intimidated by the time commitment or cost. Maybe you have time for lessons, but you don't have time to do the work of finding the right teacher. Either way, you're in luck. HeyKiki's database of the top piano teachers in NYC is organized by cost, location, and a thorough review system that allows you to double check. Finding the right piano teacher is an important process. For some, music is a fun outlet and a way to socialize. For others, it's a career. Regardless of your reason for starting lessons, your piano teacher can become a valuable mentor, a strong musical influence, and a friend.
At HeyKiki that's a process we take seriously
, and that's why we provide a list of possibilities tailored to your particular needs as a student. The instructors we work with offer a variety of lessons ranging from concerto to contemporary, classic to jazz, and everything in between. And the lessons can be individual or group, beginner to advanced. Whether you're an adult beginner, a parent looking for a teacher for your child, or a pianist who just moved to the area, HeyKiki can introduce you to a teacher who you'll work with for years.
At HeyKiki we do the legwork
by making the calls and researching piano teachers in New York City to find out their teaching style and rates. Some students work one-on-one with a piano teacher for years before realizing they work really well in a group setting. Others find that supplementing individual lessons with piano duets or trios can vastly improve their sight reading and rhythm. Maybe you're a piano student looking for a class that focuses solely on music theory. Maybe you're looking for some help preparing for a specific audition. Or maybe you don't play the piano at all but you love the idea of being able to sit down and improvise with a jazz band. Whatever your reason for being here, we're willing to bet we have classes for you.
And piano lessons
are just one of the many hobbies and activities we've databased to make it easier for you to go out and do the things you love. If practicing is a struggle for your high-energy young musician, it might be time to supplement piano lessons with a sport or adventure fitness class. If your dream is to become a singer-songwriter, check out our listings for singing lessons. So whether you're looking to start tickling the ivories or hone up your childhood piano skills, HeyKiki is your source to find the best piano lessons in New York City. So why not try one of our wonderful piano teachers today and feel confident knowing that you are getting just what you've been looking for.